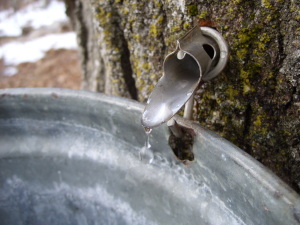 When the days grow warmer but the nights stay cold, Vermonters know that it's time to start tapping maple trees.
From home connoisseurs who only hang a few buckets to major producers who harvest from a vast sugarbush, nearly every Vermonter looks forward to collecting, drinking, and boiling the maple sap (or maybe we're all just excited about spring). Vermont produces over 42% of the nation's maple syrup, and over 1,500 sugarhouses contribute to our state's bounty.
Of course, we all know that maple syrup makes a delicious topping for pancakes, waffles, oatmeal, and ice cream, but it's also a versatile ingredient for more savory dishes. For a refreshing springtime beverage, the sap itself can be drunk straight from the tree, or it can be mixed to create an artisanal cocktail. Visit our Pinterest page for great maple syrup ideas.
However you decide to enjoy your maple, it's a great time of year to visit Vermont and participate in our favorite spring ritual.