Today, we are interviewing Jeffrey Kahn, owner of one of Woodstock's most iconic shops - UNICORN!
*If you're just finding our "Staying at Home in Woodstock" series, welcome! During the COVID-19 crisis, we are connecting with local businesses, entrepreneurs, and non-profits to help encourage and support one another through this difficult time. Please contact us directly if you would like to be featured.*
Who are you and where do you live?
Jeffrey Kahn.....I live in beautiful Woodstock, Vt.
(Note: Not Woodstock!)
What do you do? For how long have you been doing it?
I own and operate UNICORN, an eclectic gift store, which I opened in 1978 - so, for 42 years.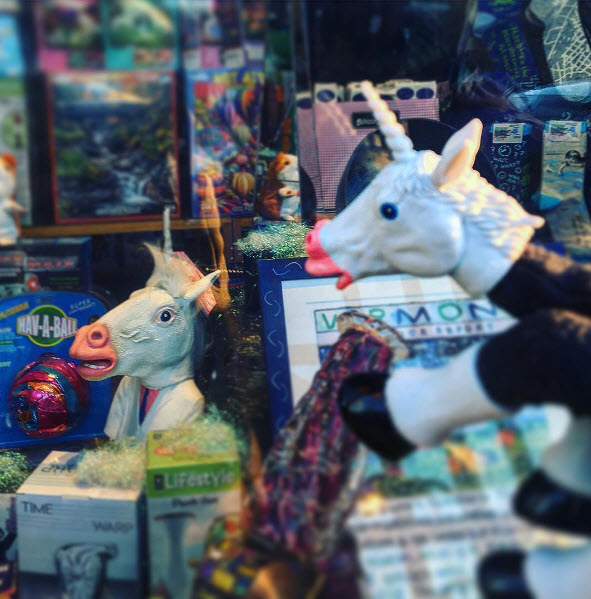 How has your life and livelihood changed in the time of Covid-19?
My life has fluctuated between Groundhog Day (the movie) and The Twilight Zone in the time of covid-19. My livelihood has diminished to a trickle.
What is the most important thing that people can do to help support you and/or your business?
If people would like to help there are a few avenues, all of which start with a call to UNICORN at (802)457-2480. You can purchase a gift card for eventual use, or I can take you on a virtual tour of the store via FaceTime, which can be a lot of fun (no charge for my commentary). We offer shipping and curbside service (you can knock at the door and I'll hand you a bag - but you can't come in!). You can view a lot of our videos @unicornvt on Instagram and Facebook. I'm generally in the store Mon-Sat from 9:30 to 5 these days, so please call or leave a message and I'll call back - I get lonely here!
What changes do you hope to see in a post-quarantine world?
In a post-quarantine world I expect folks hands will remain a lot cleaner and people will be more careful about getting into tight places with lots of faces. I also hope we develop a deeper appreciation for how fragile and valuable our lives are and perhaps we can transfer that same appreciation to our precious planet and governments start to take healing our planet more seriously and urgently.
Thank you, Jeffrey - we couldn't agree more. Here's to that post-quarantine world!
*All photos from UNICORN.